Reading time: 1 min
This recipe shows how to add a toolbar with action buttons on the top of soft keyboard in SwiftUI. The end result looks like this: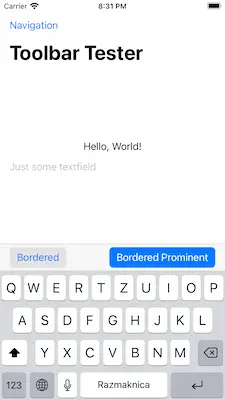 This feature is available starting with SwiftUI 3 (iOS 15, macOS 12).
The pattern for adding the toolbar to the keyboard is the same as with toolbar setups,...
Reading time: 5 min
This recipe is a cheatsheet for various ToolbarItemPlacement values and combinations on iOS. This is useful because:
The namings of the placement values don't necessarily clearly depict where will a ToolbarItem end up.
Some values don't play well with each other. E.g, .primaryAction will...